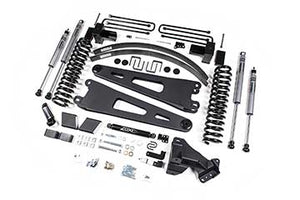 Regular price

Sale price

$1,943.15
Zone Offroad 8" lift systems are designed to improve performance, capability and tire clearance with room for up to 38" tires to be installed. At the heart of these 8" lift systems are a pair of frame mounted radius arm drop brackets to correct radius arm geometry. These brackets are built from 1/4" steel and key off the factory radius arm pockets and tie into the frame rail for extra rigidity. Full length replacement coil springs are supplied to provide the extra altitude.
These springs are specially designed for the weight of the the diesel trucks and pairs with the FOX 2.0 adventure series gas shocks to provide a smooth ride on and off-road. Steering correction comes from a forged drop pitman arm to improve operating angle while a massive 1/4" steel fabricated track bar drop bracket is used to recenter the front axle and keep the steering linkage angles in phase for predictable handling. Also included with the 8" lift kit are sway bar relocation brackets, brake line drop brackets, ball joint alignment cams, bump stop extensions and new steering stabilizer mounts.
In the rear this kit retains the rear leaf springs and swaps out the factory blocks for a 6" fabricated rear lift blocks with integrated bump stop wings, dual add-a-leafs, longer u-bolts and new u-bolt plates for increased load capacity and a level stance. Also supplied for the rear is a replacement brake line bracket and matching FOX 2.0 adventure series gas shocks to pair with the front for improved performance.
Fitment: