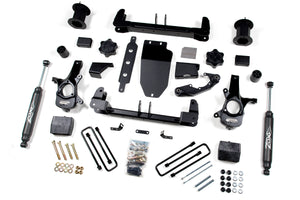 Regular price

Sale price

$1,031.58
FMVSS No.126 (ESC system test) Compliant - With the popularity of Zone's 6.5" lift kit for the 07-13 GM trucks, the engineers at Zone Offroad Products have designed the new 2014-17 kits to retain many of the great features customers have comes to expect with fitment for the new electronic power steering on the 2014-17 trucks.

The system includes a pair of fully boxed heavy duty crossmembers and robust ductile iron steering knuckles engineered to work with the redesigned steering. A 3-piece differential relocation system is utilized to correct front pinion angle with the center differential brace tying front and rear crossmembers together for a sturdy differential mount. This coupled with the differential skid plate and crossmember brace create an incredibly strong front subframe designed to correct suspension geometry while increasing ground clearance.

To retain factory ride quality a pair of bolt-on strut spacers are used to provide lift. These install easily without the need to disassemble the factory strut. Also included in the kit are a pair of CV spacers, brake line brackets, sway bar relocation, and all the necessary hardware to complete the install.

To lift the rear and level the stance a 5" flat block is utilized along with longer u-bolts, brake line bracket and nitro shocks.

As with all Zone Offroad Products, this 6.5" lift kit for the new 2014-17 Chevy/GMC 1500 trucks is backed by a limited lifetime warranty.
Fitment: