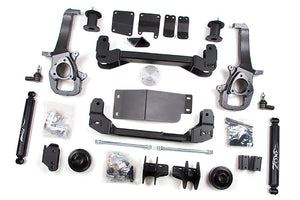 Regular price

Sale price

$1,423.00
The main components of this Zone Offroad 4" Suspension System is front and rear crossmembers, strut spacers, and sway bar links that work together with the new extended steering knuckles and replacements tie rod ends. These components are designed to maintain proper handling characteristics and work with the factory traction control system. A differential skid plate is included for added strength and protection for trips off the beaten path.

Since many of the vehicles tested by Zone Offroad had a significant tail high stance from the factory this 4" system comes standard with 2" rear coil spacers to help level the vehicle. Zone Offroad also offers 3" rear coils springs depending on your desired stance. It's best to measure your truck before ordering to determine how much rear lift is needed to give your truck the attitude you intend to. Both the 2 and 3 inch rear lift systems include upper control arm relocation brackets to avoid unwanted pinion movement under load.

Make your Dodge stand out with a brand new, quality, yet affordable suspension lift from Zone Offroad and be glad you did.
Fitment: